What kinds of things do we cover in our monthly newsletters for members? Take a look at the excerpt below from our May edition. Also, in case you didn't know, anyone – whether a PatientsLikeMe member or not – can view our current and past newsletters in our Newsletter Archive. See what we've been up to recently, and if you are member who's not opted in to the newsletter, sign up today.
MONTHLY MUSINGS
Why PatientsLikeMe?  Over the years, many of you have shared why you're here. We recently found some videos of members like you who helped create the community of 150,000+ that we are today.  Here's what they had to say:
"To be truthful, I've learned a whole lot more from other patients than I could ever have in a doctor's office,"  judy4etsu told us.  According to pokie too, who has PD, epilepsy and type 2 diabetes, "You've got to talk to somebody.  You've got to say, 'I'm having a bad day.'"  For sontzie66, it's the disease measurement tools like the Parkinson's Disease Rating Scale (PDRS).  "I answered all the questions, and I got my rating of where I was," she said.  "I had no idea what level I was with the disease."

Thanks to all of our members for being so willing to share your voices through videos, blog interviews, forum posts and more. Your experience matters and sharing what it's like to live in your shoes is helping to change healthcare for the better.
What's it like for you?  Add a story to your profile today.
– Kate, Emma, Liz, Jeanette & Sharry
JOIN THE CONVERSATION
Have you poked around the forum recently?  We now have lots of different rooms to meet your needs.  For example, did you know about the Lungs and Respiratory Room, Women's Health and Pregnancy Room and Kidneys and Urinary Room?  Find your favorite room(s) and check out these active threads below.
Need help with something on the site?  Visit the PatientsLikeMe Site Help Room for answers from veteran members.
CONDITIONS GO INTERACTIVE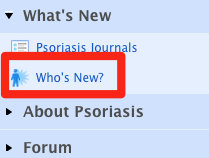 What do you want to learn at PatientsLikeMe?  This is a question we started asking new members during signup a few months ago.  Now, all of their comments are featured instantly on our new condition reports, and you have the opportunity to reply!  Visit the "Who's New" tab (pictured above) to welcome a new member or offer a bit of advice.
In addition, there are now live feeds of all new profile stories related to that condition, including condition updates, symptom updates and QOL survey answers.  (See an example here.)  That way, you can keep up with your condition's activity in real time and see other members' comments, stories and replies all in one place.
Explore our revamped condition reports (while logged in) to try out these new interactive features!